Laying poultry
Quality food guarantees quality eggs.
Thanks to various trials, Cizeron Bio has been able to develop its expertise in monogastric feeding over the generations.
In order to meet the nutritional needs of laying hens, work has been carried out on the granulometry of the feed, the raw materials and the manufacturing processes.
We offer you a very diverse range of more than 20 different feeds, adapted to pullets and laying hens, in flour, crumbs or granules.
Our range of pullet feeds prepares young birds to be more resistant to stress in adulthood and during transportation.
The selection of raw ingredients for their high fibre content, and the grinding of the feed, allows the gizzard of young chickens to be developed to improve feed efficiency.
Each of our feed ranges for laying hens consists of feeds specific to the age and needs of the hen.
We have selected palatable raw materials rich in proteins and amino acids to develop the size and laying rate of the hens from the moment they start laying.
Our mid-lay feeds meet the nutritional needs of the animals to ensure the production, calibre and strength of the eggshells.
Our end-of-lay feeds will also help to maintain a high egg-laying rate, control the calibre and keep the eggshells solid until the batch is culled.
The right dosage of vitamins and minerals is essential to strengthen the metabolism and immune system of your animals.
We offer different ranges adapted to your production needs :
The pullet range to raise your chicks to sexual maturity,
The farm range will meet the needs of breeding farms,
The NAT 100% range has been developed with 100% raw materials from organic farming and in conversion towards organic farming,
The industrial range is compatible with farms over 3,000 hens,
Our laying hen supplements will enable you to create your feed on the farm from your cereals.
Meat poultry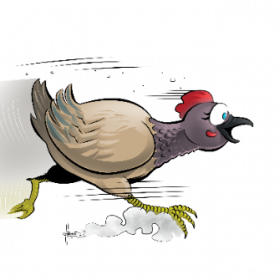 Cizeron Bio offers you a wide range of more than 15 different feeds for meat poultry.
The mix of protein and energy sources, as well as the supply of vitamins and trace elements, enables meat poultry to develop its carcass, muscle and intramuscular fat deposits.
Our range of feeds for meat poultry are made up of age-specific feeds.
Our starter feeds, concentrated, favour the development of the chicks' skeleton. Thanks to the concentration of protein, the growth feeds will allow the young poultry to build muscle.
Our finishing feeds, which are less rich, allow the animals to meet their dietary requirements and develop the intramuscular fat that gives the meat its flavour.